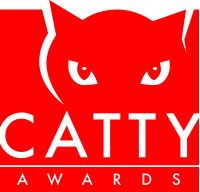 STUDENT ART & DESIGN COMPETITION CALL FOR ENTRIES

The Communication Arts Technology Program's Art Competition & Show, the CATTY's, will begin December 1st and will run through January, 2015. All student work created specifically for and during the current fall semester for a Communication Arts class is eligible for the competition. Students can enter as many pieces as they wish. All entries must be submitted to Christie's office (VTI 312A) no later than 12:00 PM on Wednesday, November 26 to be eligible.
All entries MUST include Hi Res electronic copies on CD/DVD or be given to Christie on a jump drive for uploading onto a group compilation.
Judging and selection for inclusion in the show will take place over the Thanksgiving Holiday.
We will have categories in the following areas:
GRAPHIC DESIGN (Beginning, Advanced)
COMMERCIAL PHOTOGRAPHY (Beginning, Advanced)
COLOR & B&W
DIGITAL VIDEO & FILMMAKING
DIGITAL IMAGING (Beginning, Advanced)
WEB DESIGN
FLASH ANIMATION
ILLUSTRATION (Traditional, Computer)
All art, photos, and illustrations should be mounted on black board. Photos must be mounted on board no larger than 11x14
All video, web design, and animation should be submitted to your individual course instructor for compilation on a looped or playable CD or DVD, and then turned in to Christie in VTI 312A.
ALL WORK ACCEPTED FOR THE SHOW WILL BECOME PART OF OUR PERMANENT COLLECTION UNLESS IT IS AN ORIGINAL PIECE OF ART (i.e., it is hand drawn or a package design prototype, etc.) If it can be reprinted in electronic form, it is not an original piece; it is a print of the original)
We're looking forward to some great work from all of you.


__________________________________________________________
Advising & Registration for Spring 2015 going on now
__________________________________________________________
Be sure to read appointment process details below
By Terry Lutz
Advising and registration for the spring term is upon us. We will once again be using the new online appointment scheduling system that was put in place last semester. I will be advising only on the days specified on the appointment calendar so pay close attention to the dates. As many of you have discovered, you had best register early if you don't want to stand in lines for advising later OR if you don't want to miss out on a class altogether. As you know, classes have been cancelled even when there are 7 or 8 students in the class with the potential for more enrolling students to sign up. Nothing I can do about that.
To sign up for an appointment, all you have to do is just go to the "faculty" page on this website and click on the "Schedule an Appointment" link under my name and information. Fill in the information needed and book your appointment. That's it. Then just show up at the appointed time.
When you sign up for an appointment, you will receive a confirmation email for your scheduled time. Please show up at least 15 minutes early. If I finish early with the student ahead of you and you are not there but the next person is, I will take the next person ahead of you.
There's another process that will continue for spring registration and into the future. I will be advising only. I will not be registering you for any of your classes. This procedure does not diminish the advising process. I provide advising to make sure you are taking the courses you need to be taking each semester so you can graduate on time. If you choose not to use this advising time it may be to your peril. I have never had anyone not graduate on time who met with me on a regular basis to make sure their schedule is correct.
This is important for you to know before you get to the advising session. In order to make the advising sessions go faster, I expect you all to have checked the schedule before you come to the advising session. Write down the classes that you think you are supposed to take. You should use the Academic Program Plan that I printed out for you the last time you were in my office for advising. I will then verify the classes as the ones you need. Then you can go to any of our computer labs and register for your classes in your PeopleSoft account. There are a couple of classes that you will not be able to register for. You will simply come back to me for those classes and I will register you for those.
If you are a first time student who has not been advised by me we will make a new Academic Program Plan for you when you come.
See you during advising.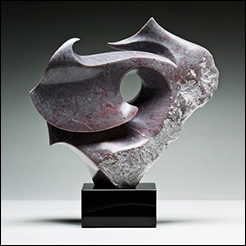 CAT student's sculpture among works at Bellarmine
By Terry Lutz
Kimberly Carroll Raber's soapstone sculpture, Coming Undone, will be featured in a group exhibit to celebrate local artist & sculptor Bob Lockhart. The Louisville Visual Art Association, University of Louisville & Bellarmine University are hosting a Multi-site exhibition entitled, The Untold Tale of Bob Lockhart: A Retrospective.
Kimberly's soapstone sculpture will be featured in the student/alumni exhibit Bobzilla! The Legacy of Bob Lockhart, at Bellarmine University's McGrath Gallery, November 7-December 13, 201. The Artists' Public Reception will be December 5, 5-7PM. It is open and free to the public.
The exhibit was curated by former Lockhart student, Jessica Miller and the LVAA Exhibition Committee. Several works in the exhibition were produced expressly for this exhibition.
The Untold Tale of Bob Lockhart: A Retrospective is a series of three exhibitions, co-produced by the Louisville Visual Art Association, Bellarmine University and the University of Louisville Hite Art Institute. The other two exhibits are indicated in the schedule below.
All of Lockhart - The Louisville Visual Art Association's PUBLIC Gallery, November 6-December 31, 2014 (Artist reception, open to public: November 21, 5-7PM).
The Sardonic Eye: Bob Lockhart in Context - Hite Art Institute Cressman Center for Visual Arts at the University of Louisville, November 14-December 21, 2014 (Artists' Public Reception: November 21, 7-9PM).
All exhibits are open and free to the public.
________________________________________
www.jctcart.com is your one stop shop for anything and everything.
All the resources you need during your tenure here in the CAT program at JCTC are literally at your fingertips with the CAT website. Let us know if you have any suggestions for improvement. The site is for you. Use it.
Don't forget to check our calendar often for upcoming events. Just click on the "cat news" page to view the calendar.