9 CAT students win 21 American Advertising Awards at 40th Annual Louie Award competition for a new school record.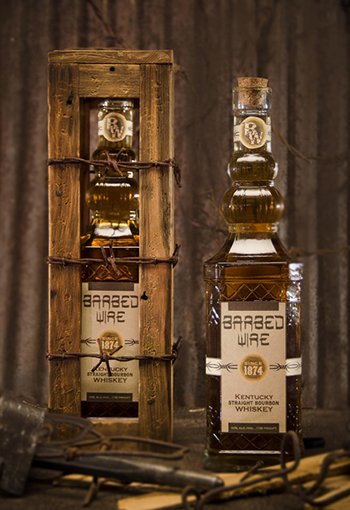 Above: Logan Selby's winning Package Design received one of the two Judges' Choice Awards.
Last night was a fantastic night for the Communication Arts Technology program. Oh what a night it was, such a night. Nine students won a whopping total of twenty-one American Advertising Awards at the 40th Annual Louie Awards competition, including a Judge's Choice Award. Our program won over three times more awards than any other school competing in the Louie's this year. And, if I'm not mistaken, this is the first time that any one school has won this many awards at the Louie competition.
Logan Selby was the top award winner last night winning three Gold Louie Awards, one for his Barbed Wire Whiskey Package Design, one for his Helping Hand Massage Stationery design, and one for his Helping Hand Massage logo design. Logan also won one of two Judges' Choice awards for his Barbed Wire Whiskey Package Design. The Judges' Choice Award is one of the top three awards in the student category.
Rebecca Rose won three Gold Louie Awards in Black and White Photography for Bound, The Darkest Corridors, and Strange Book Cover. She won three Silver Louie Awards in the Color Photography category for Sliced Pear, Remake Yourself - Nike, and Venus, making her the student winning the most Louie's of the night.
Kim Oldham won two Gold Louie Awards for her Black and White Photography entry of BwDior and her Color Photography entry of Whiskey plus a Silver Louie for her Leather photograph.
Jason Hoefflin won a Gold Louie for his Louisville Zoo Post Cards, a series of four photographic post cards, in the Photography: Campaign category. Josh Walker won a Gold Louie for Wings in the Black and White Photography category.
Lisa Mercer won two Silver Louie Awards in the Color Photography category for her entries of American Music and Newport Aquarium. Amanda Danielson won two Silver Louie Awards for her House of Rock Poster and for her Bettie Noir Magazine Ad. Both Miguel Perez and Tyler Ewing won a Silver Louie each for their Personal Lettermark designs.
In total, there were a record 10 Gold Louie Awards and 10 Silver Louie Awards plus one of the Judges' Choice Awards, won by our fantastic students. Our students won eight awards for design and thirteen photography awards. What a wonderful night this was for JCTC, our program, and our students. Our entire faculty is extremely proud of the accomplishments of these fine students who put in the extra time it takes to achieve this sort of major accomplishment and recognition.
The American Advertising Awards, also known as the ADDY Awards, or as we call them here in Louisville, the Louie Awards, are the industry's top awards and recognition program of talent and creativity from the local level all the way up to the national level and can go far in advancing a student ahead of others in the advertising industry. All our winners will soon compete at the district level. The district level is a three state competition that includes Kentucky, Ohio, and West Virginia. Students who win at the District Level will be eligible to compete at the National Level of the American Advertising Awards.
Images of the student work have been posted on the gallery page of this website. Check them out. They're awesome.
Congratulations to all our student winners. You excel at what you do and, once again, everybody knows it. Well done you guys. Very well done.
Terry
__________________________________________________________
www.jctcart.com is your one stop shop for anything and everything.
All the resources you need during your tenure here in the CAT program at JCTC are literally at your fingertips with the CAT website. Let us know if you have any suggestions for improvement. The site is for you. Use it.
Don't forget to check our calendar often for upcoming events. Just click on the "cat news" page to view the calendar.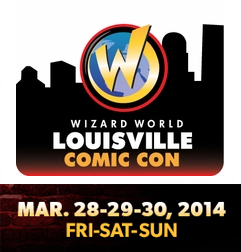 This looks to be a really fun event. Here's a link to some great savings on the Comic Con thanks to Kevin Gunn.

________________________________________
Push: Stories of effort, fortitude and creative strategy with @gowelsh


Don't miss award-winning designer, Craig Welsh, as he discusses the highly concept-driven branding, advertising, and graphic design work his Lancaster, PA based studio creates for clients ranging from commercial flooring to soft pretzels.

Thursday, March 13
6 PM reception, 7 PM presentation
Interactive Media Lab
124 N 1st St
Louisville, KY 40202

Tickets are $5 for LGDA members and current AIGA members, $15 for non-members and $10 for students.

Event sponsored by Interactive Media Lab and Brunck Print Services.

Take a gander at the work of Welsh's studio at gowelsh.com.
RSVP: http://eventbrite.com
________________________________________
Advising & Registration begins Monday, March 3. Appointment process has changed so please read details below.
By Terry Lutz
Advising and registration for the summer and fall terms is upon us. We usually have paper sign up sheets outside my office door for you to make an appointment with me. That will no longer be the case. There is a new online appointment scheduling system in place for you to use for advising purposes. I will be advising Monday and Wednesday of next week and Monday and Wednesday the week before Spring Break. You had best register early if you don't want to stand in lines for advising later.
To sign up for an appointment, all you have to do is just go to the "faculty" page on this website and click on the "Schedule an Appointment" link under my name and information. Fill in the information needed and book your appointment. That's it. Then just show up at the appointed time.
When you sign up for an appointment, you will receive a confirmation email for your scheduled time. Please show up at least 15 minutes early. If I finish early with the student ahead of you and you are not there but the next person is, I will take the next person ahead of you.
There's a whole new thing this semester that will continue into the future. I will be advising only. I will not be registering you for any of your classes. This new procedure does not diminish the advising process. I provide advising to make sure you are taking the courses you need to be taking each semester so you can graduate on time. If you choose not to use this advising time it may be to your peril. I have never had anyone not graduate on time who met with me on a regular basis to make sure their schedule is correct.
This is important for you to know before you get to the advising session. In order to make the advising sessions go faster, I expect you all to have checked the schedule before you come to the advising session. Write down the classes that you think you are supposed to take. You should use the Academic Program Plan that I printed out for you the last time you were in my office for advising. I will then verify the classes as the ones you need. Then you can go to any of our computer labs and register for your classes in your PeopleSoft account. There are a couple of classes that you will not be able to register for. You will simply come back to me for those classes and I will register you for those.
If you are a first time student who has not been advised by me we will make a new Academic Program Plan for you when you come.
See you during advising.