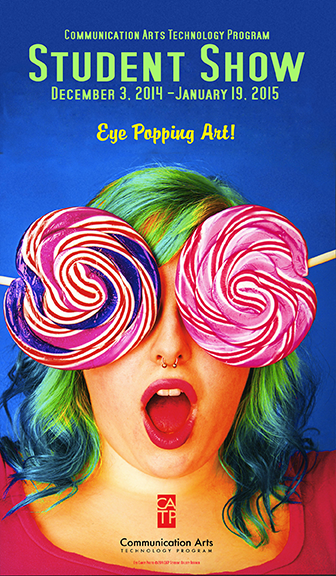 photo by Kelsey Ridener

CAT Student Show opens with fantastic art

The Communication Arts Technology Program's Art Competition & Show, the CATTY's, opened December 3rd and will run through January 19th 2015. All student work was created specifically for and during the current fall semester for a Communication Arts class. All work will soon be judged based on creativity and execution of concept.
The following categories are represented in the exhibition:
GRAPHIC DESIGN (Beginning, Advanced); COMMERCIAL PHOTOGRAPHY (Beginning, Advanced); COLOR & B&W; DIGITAL VIDEO & FILMMAKING; DIGITAL IMAGING (Beginning, Advanced); WEB DESIGN; FLASH ANIMATION; ILLUSTRATION (Traditional, Computer)
Enjoy the show.  
Welcome back to big changes for the program
Hopefully, everyone had a great holiday season the last few weeks. Well, now it's back to reality and real life.
  We've got new system software freshly loaded on all our computers and we've put our heads up in the clouds. Well, we're using the Creative Cloud now anyway.
  We have access to the Adobe Creative Cloud and we've still got CS6. Most of the teachers will be using CS6 this semester
  Not all the computers are working quite up to snuff yet so if all of you will be patient we should have things running smoothly by the beginning of next week. Hopefully, all will be well the rest of the semester after that.
  All of you should know by now how to log in to the new systems but if you don't it goes like this. Just type in your KCTCS email user name and password at the login screen and you're in. That's it. Very simple.
  The most important thing to remember about the new system is that you absolutely, positively have to log out now. If you don't, other students will have access to your personal information. So get used to logging out from now on. It's not going to change.
  OK. That's about it from here. Stay loose and stay on track this semester. Do your best and don't just do enough to get by. See ya around the block.
_______________________________________
www.jctcart.com is your one stop shop for anything and everything.
All the resources you need during your tenure here in the CAT program at JCTC are literally at your fingertips with the CAT website. Let us know if you have any suggesions for improvement. The site is for you. Use it.
Don't forget to check our calendar often for upcoming events. Just click on the "cat news" page to view the calendar.
_______________________________________
"Imagination is Everything"
–Albert Einstein