You can view the work from our 2D Animation students by clicking on the image below or here.

Photo by Kim Oldham
__________________________________________________________
Congratulations to Rebecca Rose, this year's Most Outstanding Student in Communication Arts Technology
by Terry Lutz
(Louisville, Ky. April 24, 2014)
Rebecca Rose was awarded the CAT program's most prestigious award for outstanding achievement last night at the college's Awards & Recognition ceremony. The award is voted by CAT program full time faculty each year in May. This year's vote was unanimous.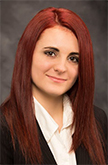 Graduating last semester with a degree in Commercial Photography, Rebecca has grown to become an outstanding photographer and has earned a GPA of 3.427 during her tenure here. She has worked part time for our program as one of our lab monitors and has been extremely helpful to our students and faculty over the years, always pitching in to do whatever we needed.
Rebecca has always displayed a winning attitude and a great desire to be more creative and professional in her photography. She has done that and more. She has done just about as much as any student can do in her time here.
A proven winner, Rebecca has participated for several years now in many of our local CAT Student Shows, the CATTY Awards, the Louisville Advertising Federation's "Louie" Awards, and the American Advertising Federation's District Five ADDY Competition. Since she started participating in these competitions, she has racked up the awards. When I asked her yesterday how many awards she's won in the program she said, "A lot."
In our CAT student shows she has won: 4 First Place or Gold awards; 1 Second Place or Silver award; 1 Third Place or Bronze award. In the American Advertising Federation, Louisville "Louie" Awards Competitions she has won: 3 Gold ADDY's and 3 Silver ADDY's for a total of 12 advertising awards.
Rebecca is not only a great student but a great person, hard working, and a dedicated professional. With her winning ways and her winning attitude, she helps to instill a more competitive spirit in many of our students. It was a tremendous honor for me to present the Communication Arts Technology program award for Outstanding Achievement to Rebecca Rose. Thank you for all your hard work, and help Rebecca.

CAT students among winners of Startup Weekend
(from left to right, Angelica Muñoz, Kimberly Raber, Doris Spencer, Rebecca Dyer, and Iris Xu)
When some of our CAT students signed up and paid their entry fee of $28 for Louisville's Startup Weekend back on February 28th they weren't quite sure what to expect. But they caught on pretty quick and ended up with their idea being one of 13 finalists for the weekend.
Rebecca's idea, Aquaponics, was one of the final 13 out of 39 ideas. A room full of developers, designers, and marketers came together and organically formed their teams for each of the 13 ideas, to create and present their business model. Their ideas were judged, and given feed back before a panel of entrepreneurial leaders from our community.
Our three CAT students, Angelica, Kimberly, and Rebecca had signed up as designers and were teamed with Doris and Iris. Aquaponics is an eco system where you can grow in small spaces w/o soil. Fish leave nitrates in the water, which in turn provide fertilizer for plants. The plants filter the water for the fish.
"Kimberly Raber said, "It was a fast paced creative environment that provided a huge opportunity for networking. We surveyed potential customers, designed and marketed a business model in 54 hours."
The ideas ranged from organic building materials to computer apps.
As stated on Louisville's Startup Weekend website (louisville.startupweekend.org), "All Startup Weekend events follow the same basic model: anyone is welcome to pitch their startup idea and receive feedback from their peers. Teams organically form around the top ideas (as determined by popular vote) and then it's a 54 hour frenzy of business model creation, coding, designing, and market validation. The weekends culminate with presentations in front of local entrepreneurial leaders with another opportunity for critical feedback."
Startup Weekend happens twice a year in Louisville.
Congratulations to our outstanding students.
________________________________________
www.jctcart.com is your one stop shop for anything and everything
All the resources you need during your tenure here in the CAT program at JCTC are literally at your fingertips with the CAT website. Let us know if you have any suggestions for improvement. The site is for you. Use it.
Don't forget to check our calendar often for upcoming events. Just click on the "cat news" page to view the calendar.